Tallahassee's #1 Lawn and Landscape Company
ProLawns is a family owned and operated lawn care provider.
REQUEST A FREE ESTIMATE
See Why Our Customers Continue to Work with Us!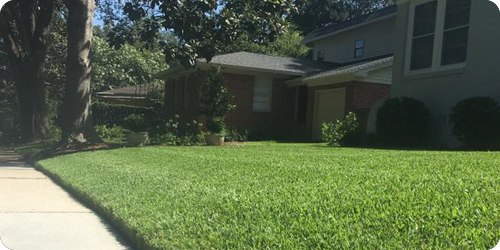 Lawn Maintenance
Pro Lawns is your dedicated partner in preserving the beauty and health of your green spaces. We offer a comprehensive range of services, including regular mowing, edging, fertilization, aeration, and weed control, to ensure your lawn stays lush and vibrant throughout the year. Our expert team takes a proactive approach, providing tailored care plans to address your lawn's unique needs. With a commitment to excellence, attention to detail, and a passion for cultivating thriving lawns, Pro Lawns is your go-to choice for professional lawn maintenance.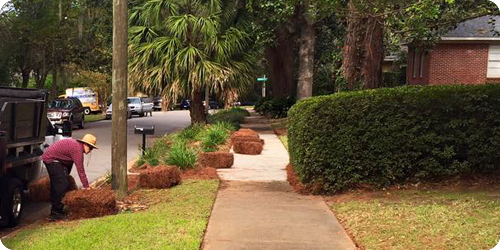 Hedge Trimming
Pro Lawns is the expert choice for maintaining immaculate and well-manicured hedges. We specialize in precision hedge trimming services that not only enhance the aesthetic appeal of your property but also promote the health and growth of your plants. Our skilled team possesses a keen eye for detail and is equipped with the right tools to ensure that your hedges are sculpted to perfection. Whether it's intricate topiary designs or routine maintenance, Pro Lawns delivers results that showcase our dedication to excellence in hedge care.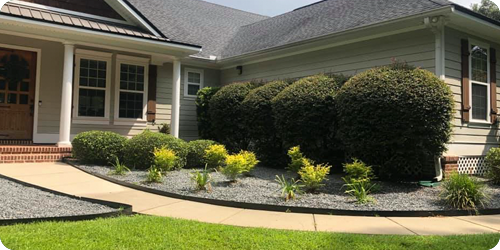 Landscape Design & Installation
Pro Lawns is your premier destination for turning outdoor dreams into breathtaking realities. Our services encompass the full spectrum of landscape design, from initial concept to the meticulous installation of every element. With an expert team of designers and craftsmen, we collaborate closely with our clients to create outdoor spaces that reflect their unique vision and needs. From lush gardens to hardscapes, water features, and more, Pro Lawns] is committed to delivering innovative and beautiful landscape solutions that transform your property into a true masterpiece.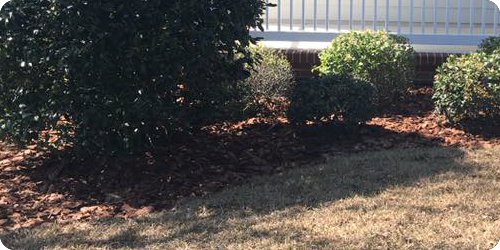 Mulch & Pine Straw Installation
Mulching is an effective and cost-efficient way to keep your lawn lush and healthy. We are your dedicated partner in enhancing the aesthetic and functional aspects of your landscaping. Our expert team excels in the precise application of mulch and pine straw to not only elevate the beauty of your outdoor spaces but also to promote soil health and moisture retention. We offer a variety of mulch and pine straw options to suit your preferences and needs, ensuring your landscape is both visually striking and environmentally sustainable. With a focus on detail and a passion for perfection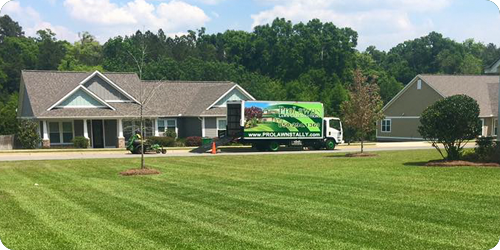 Sod Installation
Pro Lawn leads the way in transforming your outdoor spaces into lush, vibrant landscapes. Our professional team specializes in the meticulous installation of premium sod, ensuring that your lawn is not just green but also healthy and resilient. We take pride in our commitment to excellence and our focus on using top-quality materials to create a picture-perfect lawn. With a proven track record of delivering lasting results, Pro Lawns is the trusted choice for sod installation that will enhance the beauty and functionality of your property.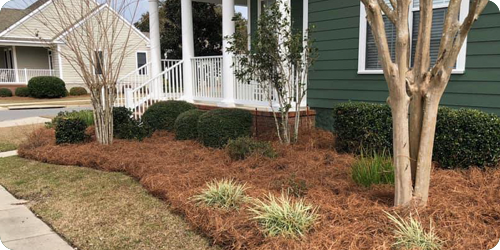 Spring & Fall Cleanups
We stand as your seasonal partner in maintaining the beauty and order of your outdoor spaces. Our specialized team offers comprehensive cleanup services to ensure your property is in prime condition throughout the year. In the spring, we prepare your landscape for growth by clearing debris, trimming, and rejuvenating your plants. In the fall, we take care of leaf removal, trimming, and tidying up, ensuring your outdoor area looks its best.
ProLawns Services Residential & Commercial Properties in
and Around the Tallahassee Area.
Call Us Today for More Info
About Us
Experience the ProLawns Difference
We strive for quality and long-term relationships with our clients.
ProLawns is a family owned and operated lawn care provider. We strive for quality and long-term relationships with our clients. Our attention to detail and commitment to excellence sets us apart from our competition.
​ProLawns services residential and commercial properties in and around the Tallahassee area. We keep our prices competitive and continue to enhance our techniques to provide the best quality service possible.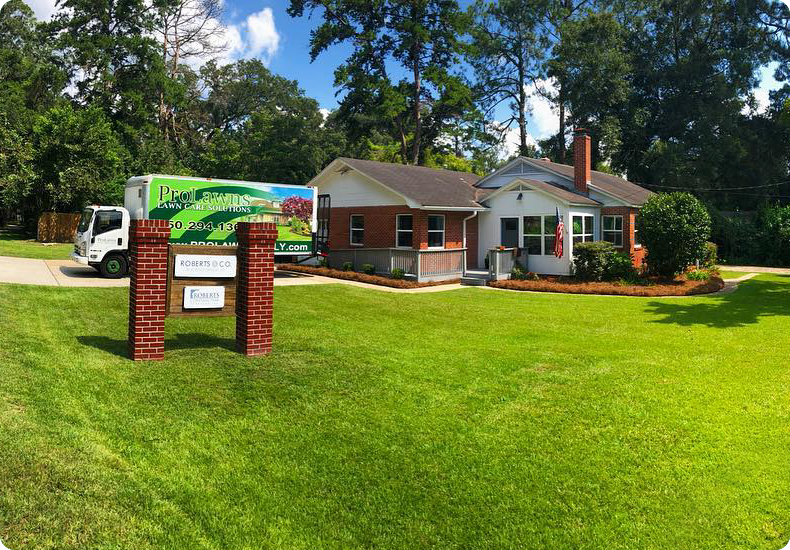 Testimonials
Your Experience is Our Top Priority. ​​
We Guarantee You Will Be 100% Happy With Your Service!
Here's why Our Customers Say We are The Best!
Very Professional!
"As a purchasing professional I value customer service and efficiency. I was selling my house and needed to get the yard cleaned up. I contacted Pro Lawn and talked to Mike. He was very open and pleasant to speak to and within a couple of days I had a crew in my yard doing their thing. The pricing was more than fair for the amount of work needed. The office staff were nice and very professional on the phone. Mike himself was extremely responsive at nearly any time I had available to communicate and fit my schedule as best he could. The job itself was done quickly and efficiently and I was very satisfied with the end result. Keep it up Mike!"


Brent T.
Best Experience Possible!
"I just met Kyle and Charna at a landscape conference and I can testify to their great character and professionalism. They're serious about business and giving their clients the best experience possible."


Tom S.
Excellent! 
"Excellent. The owner takes his work very seriously and is always ready to get the job done. They do a good job and are always there when scheduled.. If you have any questions the owner will be more than happy to answer them. I am happy with pro lawns service."


Craig L.
Great Price & Timely!
"I had to get my yard ready quickly for photos to put it on the market. I don't think anybody else could have done the job in such a timely fashion, at a great price, and made it look so good. If I would have known how affordable they were, I would have had them doing it the whole time I was living there!"

Jessica W.
Extremely Punctual!
"My girl friends house was up for sale, and her previous land care person was unavailable to take care of the lawn before the house was being shown. I spoke with Kyle the night before, he was able to get there first thing in the morning, and she was very impressed with his work, the best it's ever looked. the Pro lawn team is extremely punctual and professional."


Ryan W.
Highly Recommend!
"Awesome customer service and they always do a great job! I Highly recommend for landscaping and lawn upkeep! Thank you!."


Jessica C.
Why Choose Us
We Are Sure Once You Have Tried
Prolawns Lawn Care Services, You'll Find
More Ways We Can Help You!
Go ahead and give us the opportunity to show you how we are
a different kind of lawn care company.

Our 100% No Risk Guarantee
Means absolutely 100% NO RISK to try us!

We Protect Your Property
Having extensive insurance coverage sets us apart!

We Carry Workers Comp
If an employee is injured on your property, it's covered!

We Screen Our Employees
We perform detailed screenings of every employee we hire!

We Show Up When We Say
Can provide you with email verification and prior courtesy call!

We Care About the Details
We perform a checklist before leaving your property!

We are Licensed Specialists
Our management and staff are professionals!

Over 20 Years Experience
And are family owned!
We Have Over 20 Years of Experience Servicing
Residential & Commercial Properties In and Around the Tallahassee area.
Our Location
ProLawns Lawn Care Solutions
Tallahassee's #1 Lawn and Landscape Company
3767 Peddie Dr.
Tallahassee, Florida 32303
We Keep Our Prices Competitive and Continue to Enhance
Our Techniques to Provide the Best Quality Service Possible.
Call Us Today for More Info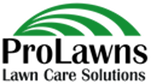 ProLawns is a family owned and operated lawn care provider. Services include residential and commercial properties in and around the Tallahassee area.
3767 Peddie Dr.
Tallahassee
Florida 32303